Stop at this moment and let nature handle treat the mind and body.
We offer herb-, peat- and sauna treatments in the middle of nature.
You can also stay in a quiet cottage and enjoy the Finnish lake view.
Collect herbs for home delivery and treat your feet in a Kalevala herbal salon bath.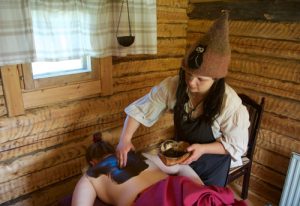 Buy herbs collected in the middle of pure nature.
The cottages are located in natural peace, on the shore of Lake Naamajärvi. At the cottage you can listen to the sounds of nature, bonga bird, fish, soossa by boat, calm down / relax in the middle of the hurry. 1.5 km from the cottages you can get a relaxing, healing massage. Pets welcome.